SKU:
18500101
Regular price
Sale price
$5,999.00
Unit price
per
Sale
Temporarily Out of Stock
🚚 Fast Delivery Times
❓Questions? Talk to Experts 469-809-4999
🧑🏻‍💼Post-Purchase Lifetime Customer Support
🛡️Premium Authorized Dealer - Warranty Included
Infinity IT-8500 Zero-Gravity Plus Massage Chair
Infinity felt it was time to upgrade one of our most popular massage chairs, the result of which is the IT-8500 Plus. Now featuring a color screen LCD remote, app functionality, and in-built nature sounds, the Infinity IT-8500 Plus Massage chair appeals to even more lifestyles and body types. It is premium and top-of-the-line in every aspect; users can seamlessly play their favorite tunes through the chair's Bluetooth®-enabled sound system. Plus, the Apple® and Android™ app allow you to easily control your massage from your device.
Of course, the IT-8500 Plus still includes feature favorites such as a body scan sensor system for a more accurate massage experience, an unprecedented spinal decompression stretch, soothing lumbar heat, and rejuvenating foot rollers. Experience the difference of Infinity's IT-8500 Plus today.
Features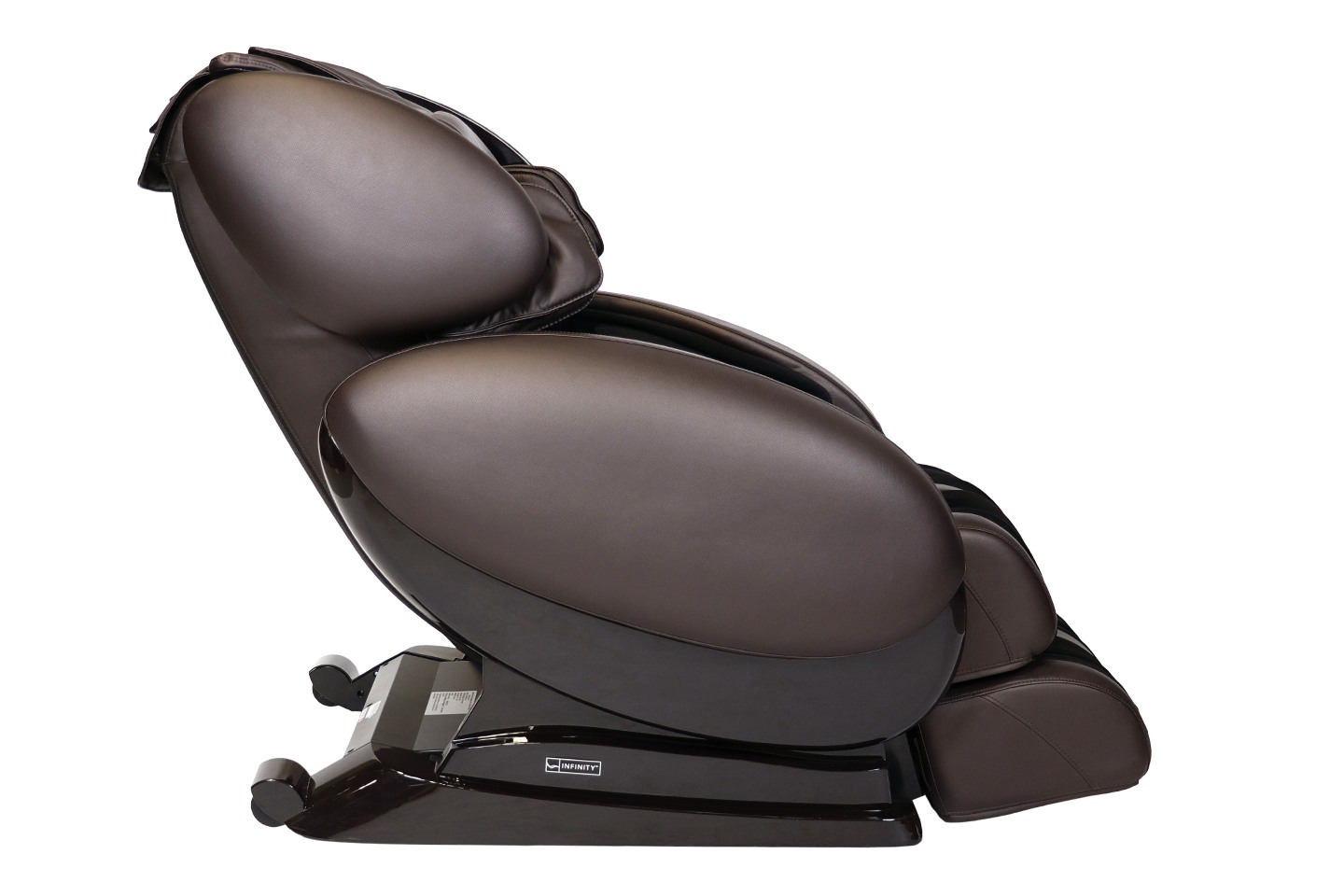 | | |
| --- | --- |
| Massage Techniques Available | Shiatsu, Kneading, Tapping, Knocking, Sync. |
| S-Track | Infinity's S-track design matches the natural shape of your spine in order to hit all your areas of tension and properly realign your body from your neck down to your lumbar region. |
| Four-Wheel Mechanism | The IT-8500 Plus provides pressurized massage strokes with four high-tech rollers that methodically knead out muscle tension. |
| Zero Gravity | Zero gravity positioning elevates your knees above your heart, which allows the spine to decompress, provides a sense of weightlessness, and maximizes the effects of the massage rollers. |
| Decompression Stretch | During this full-body stretch, the massage chair's airbags grip your shoulders and legs as it reclines accordingly to soothe and relieve your spine. |
| Spinal Correction & Waist Twist | The spinal correction feature uses powerful stretching techniques to extend and decompress your spine in order to relieve back pain. As an alternative, the IT-8500 Plus also provides waist twisting, which is a milder option for back pain relief. |
| Reflexology | Replicating thumb and finger techniques of reflexology, the IT-8500 Plus' foot rollers attend to vital pressure points on the feet linked with other areas of the body. |
| Lumbar Heat | Heating modules located in the back of the chair provide a soothing sensation and loosen your muscles to better prepare your body for the massage. |
| Bluetooth Technology | Immersive speakers located in the headrest connect to Apple® or Android™ devices via Bluetooth, allowing you to enjoy music, guided meditations, ambient soundscapes, and any other form of audio to enhance the mental experience of your massage. |
| Apple & Android App Functionality | Operate the IT-8500 Plus right from your Apple or Android device with its app-based functionality. |
| Body Scanning | Body scanning technology ensures that the massage rollers hit all of your unique pressure points by adjusting the position of the rollers and tailoring them to your body. |
| Airbag Compression Therapy | The IT-8500 Plus has airbags located throughout the chair that inflate and deflate to provide a sensation on the muscles that feels like real human hands. |
Specifications
Chair Width

36.00"

Chair Weight

265.00 lbs.

Upright

Chair Length: 59.00"

Upright

Chair Height: 46.00"

Reclined

Chair Length: 74.00"

Reclined
 

Chair Height: 36.00"
Product Presentation
PRODUCT GUIDES
---
Product Videos
Video Tutorials:
Warranty

Warranty:



Warranty information may vary depending on the manufacturer, so please refer to the individual product pages for details. It's important to note that warranties cover damages that occur over time and from use. If an item arrives damaged and is not reported within 30 days, it is not considered a warranty claim.

For any questions, please contact support @ thehomeupgrade.com.
Shipping & Returns

Cancellation & Refund Policy:



At The Home Upgrade, we take pride in offering one of the industry's best return policies. You can cancel your order free of charge at any time before it has shipped, with some exceptions for custom-made orders. For cancellations, please contact us at 469-809-4999 or email support @ thehomeupgrade.com.

Cancellations (Before Order Ships):

If you need to cancel an order, please contact us as within 24 hours so that we can process a full refund before your order is shipped from the warehouse. You can reach our agents during business hours at (469) 809-4999, through the chat in the bottom right, or by emailing support@thehomeupgrade.com at any time.

Cancellations of Custom Orders:

Custom or made-to-order products cannot be cancelled or refunded, as these products are specifically produced for your order. These units are custom made according to your specifications or created once you place your order. Your warranty ensures that you receive a fully functional and operational product. If you are unsure whether your order is custom or made-to-order, please message or call us for clarification. All sales are final for custom-made and made-to-order products.

Refunds and Returns:


If you need to exchange your product, you may do so, but please note that you, as the customer, are responsible for any shipping costs incurred during the returns and exchange process. Please be aware that not all orders are eligible for return once they have shipped, as we source our products directly from manufacturers. Therefore, if the manufacturer does not permit us to return a product, we are unable to offer you a return. This policy may vary on a case-by-case basis, so please reach out to us for specific information regarding your brand and/or product. Due to the increasing costs of LTL/freight shipping, outright returns will be subject to a 25% cancellation fee plus return shipping costs. However, if you are replacing the product with something else, we may be able to assist with covering some of the costs, depending on the product.

Shipping Times:

We strive to deliver your order as quickly as possible. Estimated shipping times provided on the product pages are based on information from our suppliers and freight companies, but these estimates may change or vary without notice due to factors such as supply chain issues, delays in steel mills, manufacturing delays due to mills, high demand on shipping, factory/warehouse and dock workers, and so on).

Order delays are beyond The Home Upgrade's control and have proven to be unavoidable. We understand that this may be frustrating, and we kindly ask for your patience and understanding during these challenging times. We appreciate your business and value your patience.
FAQ's

Frequently Asked Questions:

When will I know if my order has shipped?

Once you place your order, you will receive an order confirmation email. This means that we have received your order and authorized your credit card for the purchase. We immediately check with our suppliers to confirm stock availability for immediate shipment. If your item is on backorder or unavailable, we will void the pre-authorization and notify you by email. If your item(s) are available for immediate shipment (within 5 business days), we will process the charges and submit the order for shipment. In case of any delay in stock, we will contact you before accepting payment.

When will my order be shipped?

If your order is in stock and we have processed the charges to your credit card, it will be shipped within 2-5 business days from the date of your order. We will send you tracking information within 24 hours of your order leaving the warehouse to the email address you provided during checkout. If you do not receive tracking information within six business days of your order, please feel free to follow up with us at support@ thehomeupgrade.com.

Shipping is limited to the lower 48 states of the USA. For any questions, please email us at support @ thehomeupgrade.com or call us at (469) 809-4999.

By using the site, you agree to these terms of use. If you do not agree, please refrain from using the site.
View full details