SKU:
EP500P
Regular price
Sale price
$4,999.00
Unit price
per
Sale
Temporarily Out of Stock
🚚 Fast Delivery Times
❓Questions? Talk to Experts 469-809-4999
🧑🏻‍💼Post-Purchase Lifetime Customer Support
🛡️Premium Authorized Dealer - Warranty Included
BLUETTI EP500Pro Solar Power Station | 3,000W 5,100Wh 
5100Wh LiFePO4, 3500+ Cycles to 80% Capacity
EP500Pro: 3000W Pure Sine Wave Output
Movable Power Station
In-grid UPS Mode&Flexible UPS Mode(24/7)
Off-grid Energy Storage
Multiple Devices Can Be Loaded Simultaneously
Flexible Recharging Way To Keep Your EP500 Always On
App Remote Control
Smart Touchscreen
All-in-one Backup Power Station
The BLUETTI EP500PRO is shipped with a ground-breaking 5100Wh LiFePO4 battery pack and a 3000W rated pure sine wave AC inverter. This class-leading power station brings you the power to run your entire party, family camping trip, cabin workshops, or even your whole house for a day or two in the event of an unexpected outage. Up to 15 outlet sources allow you to power anything from laptops and air conditioners to your electric vehicles without breaking a sweat.
Safe, Smart, And Continuously Evolving
The advanced Battery Management System and LiFePO4 chemistry bring the EP500PRO incredible safety and durability. With the built-in dual-core microcomputer and Internet connection, the EP500PRO's firmware can be upgraded through your internet connection. There is no best, only better!
Seamless UPS Backup
The EP500PRO will automatically become your home energy source for essential loads when the electrical grid goes down. Unlike gasoline generators, BLUETTI EP500PRO keeps your lights on and laptops charged without upkeep, fuel, carbon monoxide or annoying noise. Pair with up to 1200W MPPT solar input to rapidly recharge or to keep your appliances running without depleting the onboard battery. Remember when you had to worry about a power outage? Worry no longer, Meet BLUETTI EP500PRO.
How to use the EP500/EP500PRO
Designed as a flexible power station to meet various scenarios, the EP500 Series has different usages.
Specifications
3000W
3000W<load<3750W,2min
3750W<load<4500W, 5s
4500W<load<6000W, 500ms
(peak 6000W)
500*300*760mm (22.8*11.8*29.9in)
3500+ Cycles to 80% Capacity
Storage Ambient Temperature:
Working Environment humidity:
UL2743, UKCA, RCM, PSE, FCC, CE
---
2400W Max
12-150VDC,12Ax2
12V/24V,8.2A
---
2*Quick Charging, 36W Total, 2*5VDC, 3A Total
---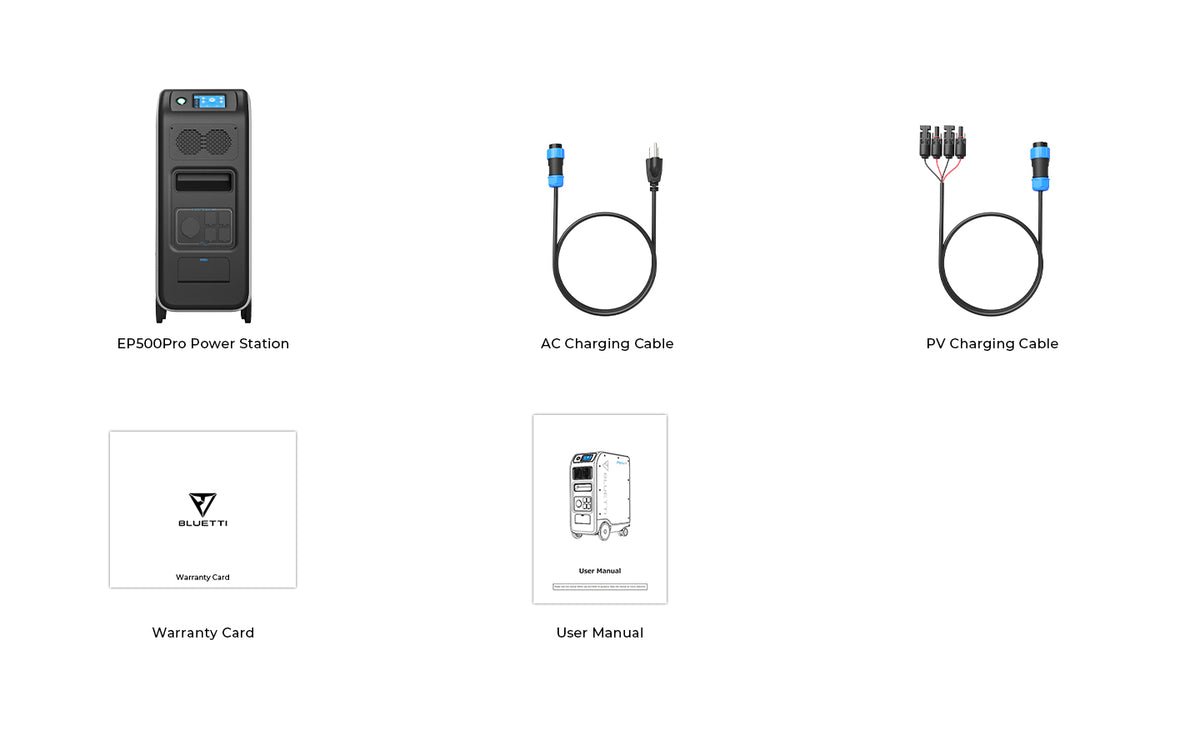 FAQ
Q1: Can it connect to the BLUETTI B230/B300 expansion batteries?
Yes. You can connect it with B230/B300 battery with the DC input cable and P090D to MC4 cable*.
* Sold separately.
Q2: Does EP500Pro support App control?
Yes. Once connected via WiFi or Bluetooth, the BLUETTI App will enable you to control the EP500ProPro remotely, like switching the working mode and upgrading the firmware
Q3: Can I use EP500Pro as a UPS?
Yes. It supports four UPS modes:
1. Standard UPS.
2. Time Control UPS (Pay less for higher electricity consumption).
3. PV Priority UPS (Recommended for regions with sufficient solar energy). 4. Customized UPS.
Q4: How do I connenct this to my home main panel?
BLUETTI recommends a competent and trained licensed electrician undertake the task.
Connect the wires of critical equipment from your house electric panel to BLUETTI Smart Home Panel*.
Then connect EP500Pro to the Smart Home Panel.
* Sold separately.
Q5: What is the UPS switching time?
There are two types of working conditions of UPS for EP500Pro system.
1) No delay for online UPS;
2) 20ms from standby UPS.
Q6: What is the maximum input charging power of the BLUETTI EP500Pro?
4,000W Max.
Q7: How can it reach 3,000W AC recharging?
Plug it to a 30A wall socket with the 30A AC charging cable*.
* Sold separately. (Click here to learn more.
Q8: What kind of solar panels should I choose for EP500Pro?
PV input requirements for EP500Pro:
Open Circuit Voltage: 12-150V
Input Power: 2,400W Max.
Include MC4 connectors.
Highly Recommended:
6x BLUETTI PV120: ≈8hrs*.
5x BLUETTI PV200: ≈6hrs*.
3x BLUETTI PV350: ≈5.5hrs*.
* For reference ONLY.
Q9: Can I use my solar roof to charge the EP500Pro?
Yes, but please note your solar roof should have:
1. NO micro-inverter
2. an open-circuit voltage of 12-150V
3. MC4 connectors
However, when the OCV falls in 150-550V, you can also use BLUETTI D300S* to step down the voltage and achieve solar charging.
* Sold separately.
Q10: Can I connect two EP500Pro together for more power (240V Split Phase Bonding)?
Yes. With the Fusion Box (P030A), you can connect two EP500Pro in series for 240V/6,000W output.
Q11: Can EP500Pro connect with EP500?
No. Only EP500 to EP500, or EP500Pro to EP500Pro is acceptable.
Q12: Can it charge and discharge at the same time?
Yes.
Q13: How do I know whether my appliance can work well with the EP500Pro?
Calculate the total wattage of your devices. EP500Pro should work if the load doesn't exceed its rated 3,000W.
Q14: How long can it run my device?
Running time = Battery capacity × DoD × η ÷ Device rated power
DoD refers to Depth of Discharge and η is local inverter efficiency.
For EP500Pro, both DoD and η are 90%. If you run a 1,000W microwave oven with it, the running time will be:
5,100Wh × 90% × 90% ÷ 1,000W ≈ 4.1hrs Note:
1) The formula is NOT suitable for inductive loads with compressors, like refrigerator, air conditioner, etc.
2) The above data is for reference ONLY.
Q15: Is the EP500Pro power station waterproof?
No. Also, please do NOT store it in a humid environment for a long time.
Q16: When I keep the power plugged in, will EP500Pro stop charging automatically when fully charged?
Yes. And when the SOC is less than 100%, EP500Pro will automatically charge again without damage to the battery.
Q17: Is it possible to replace the built-in battery?
No. If the internal battery pack is faulty or even dead, please contact BLUETTI Customer Service.
Q18: How is it different from the EP500?
The main differences are:
1) Output power : 3,000W AC power for EP500Pro, while 2,000W for EP500.
2) Solar Input: 2,400W for EP500Pro, while 1,200W for EP500.
3) AC Input: 3,000W for EP500Pro, while 600W for EP500.
4) Output Port: EP500Pro has one more 100W USB-C port and 1 NEMA L14-30 port.
5) Recharging: EP500Pro supports charging from car cigarette lighter and lead-acid battery, while EP500 doesn't.
Q19: How is it different from the AC300?
The main differences are: 1) Battery: AC300 has no built-in battery and must work with B300, while EP500Pro connects with B300 only for capacity expansion. 2) 30A AC Output: EP500Pro has an L14-30 port while AC300 has a TT-30 port. 3) Maximum Input: 5,400W for AC300 with two B300, 3,000W with one B300, while 4,000W for EP500Pro. 4) Weight and Dimensions: AC300 is smaller.
Video
Warranty

Warranty:



Warranty information may vary depending on the manufacturer, so please refer to the individual product pages for details. It's important to note that warranties cover damages that occur over time and from use. If an item arrives damaged and is not reported within 30 days, it is not considered a warranty claim.

For any questions, please contact support @ thehomeupgrade.com.
Shipping & Returns

Cancellation & Refund Policy:



At The Home Upgrade, we take pride in offering one of the industry's best return policies. You can cancel your order free of charge at any time before it has shipped, with some exceptions for custom-made orders. For cancellations, please contact us at 469-809-4999 or email support @ thehomeupgrade.com.

Cancellations (Before Order Ships):

If you need to cancel an order, please contact us as within 24 hours so that we can process a full refund before your order is shipped from the warehouse. You can reach our agents during business hours at (469) 809-4999, through the chat in the bottom right, or by emailing support@thehomeupgrade.com at any time.

Cancellations of Custom Orders:

Custom or made-to-order products cannot be cancelled or refunded, as these products are specifically produced for your order. These units are custom made according to your specifications or created once you place your order. Your warranty ensures that you receive a fully functional and operational product. If you are unsure whether your order is custom or made-to-order, please message or call us for clarification. All sales are final for custom-made and made-to-order products.

Refunds and Returns:


If you need to exchange your product, you may do so, but please note that you, as the customer, are responsible for any shipping costs incurred during the returns and exchange process. Please be aware that not all orders are eligible for return once they have shipped, as we source our products directly from manufacturers. Therefore, if the manufacturer does not permit us to return a product, we are unable to offer you a return. This policy may vary on a case-by-case basis, so please reach out to us for specific information regarding your brand and/or product. Due to the increasing costs of LTL/freight shipping, outright returns will be subject to a 25% cancellation fee plus return shipping costs. However, if you are replacing the product with something else, we may be able to assist with covering some of the costs, depending on the product.

Shipping Times:

We strive to deliver your order as quickly as possible. Estimated shipping times provided on the product pages are based on information from our suppliers and freight companies, but these estimates may change or vary without notice due to factors such as supply chain issues, delays in steel mills, manufacturing delays due to mills, high demand on shipping, factory/warehouse and dock workers, and so on).

Order delays are beyond The Home Upgrade's control and have proven to be unavoidable. We understand that this may be frustrating, and we kindly ask for your patience and understanding during these challenging times. We appreciate your business and value your patience.
FAQ's

Frequently Asked Questions:

When will I know if my order has shipped?

Once you place your order, you will receive an order confirmation email. This means that we have received your order and authorized your credit card for the purchase. We immediately check with our suppliers to confirm stock availability for immediate shipment. If your item is on backorder or unavailable, we will void the pre-authorization and notify you by email. If your item(s) are available for immediate shipment (within 5 business days), we will process the charges and submit the order for shipment. In case of any delay in stock, we will contact you before accepting payment.

When will my order be shipped?

If your order is in stock and we have processed the charges to your credit card, it will be shipped within 2-5 business days from the date of your order. We will send you tracking information within 24 hours of your order leaving the warehouse to the email address you provided during checkout. If you do not receive tracking information within six business days of your order, please feel free to follow up with us at support@ thehomeupgrade.com.

Shipping is limited to the lower 48 states of the USA. For any questions, please email us at support @ thehomeupgrade.com or call us at (469) 809-4999.

By using the site, you agree to these terms of use. If you do not agree, please refrain from using the site.
View full details