SKU:
EB70
Regular price
Sale price
$599.00
Unit price
per
Sale
Temporarily Out of Stock
🚚 Fast Delivery Times
❓Questions? Talk to Experts 469-809-4999
🧑🏻‍💼Post-Purchase Lifetime Customer Support
🛡️Premium Authorized Dealer - Warranty Included
BLUETTI EB70S Portable Power Station | 800W 716Wh
Massive 716Wh capacity and 800W rated wattage
The ultra-stable LiFePO4 battery chemistry,2500+ life cycles
With max input of 200W, this power station can be fully recharged in 3-4 hrs with solar panels (OCV 12-28V, 200W)
It can also get fully recharged from an AC wall outlet in 3-4 hrs or a 12V car port in 7-8 hrs.
Stay Powered, Wherever Life Takes You
The EB70S portable power station was born from ultimate innovation and stay-of-the-art technologies. It features the 800W/ 1000W power inverter and 716Wh LiFePO4 battery pack, which is enough to power your essentials on the road or during power outages.

Power All Loads For The Road
12 output ports are sure to meet your needs for charging different devices simultaneously. A 15-watt wireless charging pad at the top greatly facilitates the charging of cellphone. From mini-refrigerators to LED lights, it is a great storage option for camping and emergency use.

Designed For Life On-the-go
Power multiple devices Such as LED lights, fans, projectors and more, build a movable theater, enjoy a movie feast with your family during the camping or RV trip.

Easy Portability, Endless Possibility
With a built-in ergonomic handle design, it can be easily lifted and moved with just one hand. An excellent backup power source to rest assured without worry about running out of power or an unexpected power failure.

A Must-have Camping Partner
As compact as 12.6*8.5*8.7inch of dimension and weights only 21.4lbs, EB70S is designed for campers or hikers, which can power almost all your essentials on the road. From your phone, laptop to an electric cooker. It can simply be charged by solar panels, thus you do not have to worry about electricity consumption at all.

Specifications
LiFePO4 (Lithium Iron Phosphate)
2,500+ Cycles to 80% Original Capacity
Recharge to 80% Every 3-6 Months
MPPT Controller, BMS, etc.
---
4 x 120V/20A AC Outlets, 800W In Total
1 x 12V/10A (Car Outlet)
2 x 12V/10A (DC5521)
---
200W Max., VOC 12-28V, 8A
12/24V from Cigarette Lighter Port
---
≈4-4.5 Hours (With prime sunshine, ideal orientation and low temperature)
12V/24V Car Outlet (100W/200W):
---
240V Split Phase Bonding:
No. Need 240V power source? Explore here
No. Enter for BLUETTI expandable power stations
12.6 x 8.5 x 8.7 in (32 x 21.6 x 22.1cm)
24 Months (Enter to learn more about BLUETTI warranty policy)
---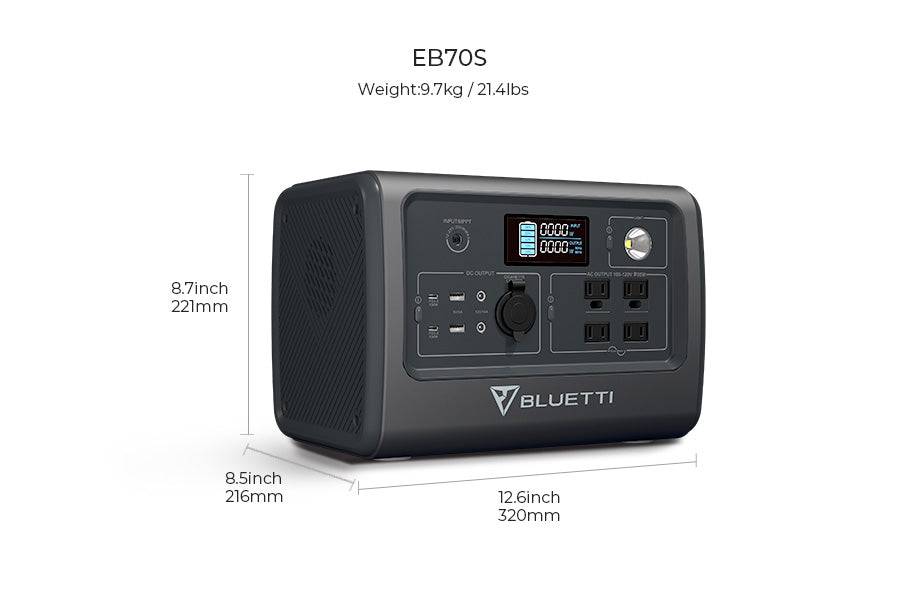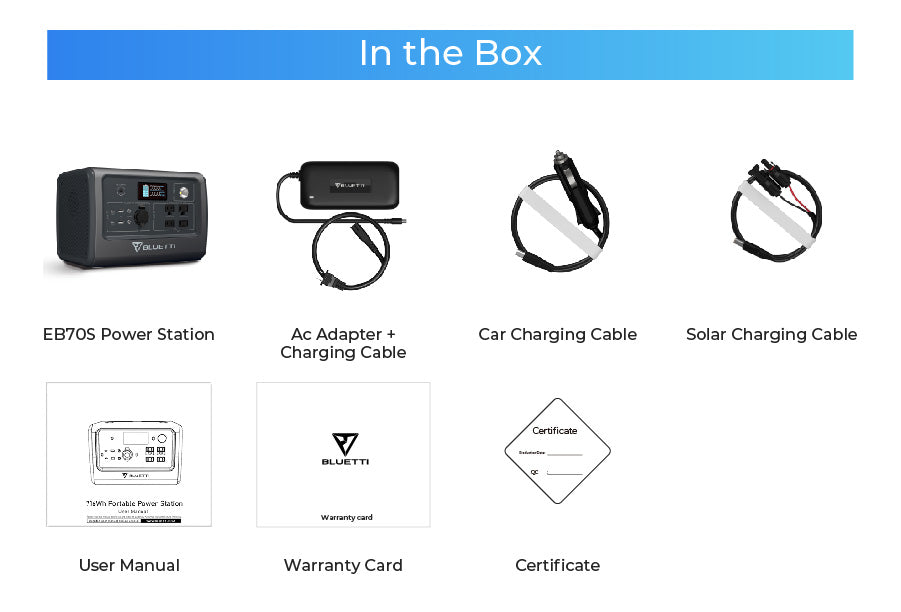 FAQS
Q1: Can it charge and discharge at the same time?
Yes
Q2: How do I know whether my appliance can work well with the EB70S?
Calculate the total wattage of your devices. EB70S should work if the load doesn't exceed its rated 800W.
Q3: How long can it run my device?
Running time = Battery capacity × DoD × η ÷ Device rated power DoD refers to Depth of Discharge and η is local inverter efficiency.
For EB70S, both DoD and η are 90%. If you run a 500W blender with it, the running time will be:
716Wh × 90% × 90% ÷ 500W ≈ 1.2hrs
Note:
1) The formula is NOT suitable for inductive loads with compressors, like refrigerator, air conditioner, etc.
2) The above data is for reference ONLY.
Q4: What is the maximum input charging power of the BLUETTI EB70S?
200W Max.
Q5: What kind of solar panels should I choose for EB70S?
PV input requirements for EB70S:
Open Circuit Voltage: 12-28V
Input Power: 200W Max.
Include MC4 connectors.
Highly Recommended: 1x BLUETTI PV120: ≈6.5hrs*. 1x BLUETTI PV200: ≈4hrs*.
* For reference ONLY.
Q6: Can I use or charge EB70S in sub-zero temperatures?
Temperature ranges for EB70S are:
Charge: 0-40℃ (32-104℉);
Discharge: -20-40℃ (-4-104℉);
Storage: -20-40℃ (-4-104℉).
Technically, it can power electrical devices under such situations, but please avoid charging it.
Q7: Does EB70S support BLUETTI App control?
No
Q8: Can it be laid on its side to save space?
No. Long-term placement will make the internal structure loose, it is recommended to place the machine upright
Q9: Can I expand its capacity by connecting with B230/B300 battery?
No.
Q10: Is the solar charge controller mode MPPT or PWM?
MPPT.
Q11: What is the difference between the EB70 and EB70S?
The difference lies in output power; EB70S delivers up to 800W AC power while EB70 provides 700W.
Warranty

Warranty:



Warranty information may vary depending on the manufacturer, so please refer to the individual product pages for details. It's important to note that warranties cover damages that occur over time and from use. If an item arrives damaged and is not reported within 30 days, it is not considered a warranty claim.

For any questions, please contact support @ thehomeupgrade.com.
Shipping & Returns

Cancellation & Refund Policy:



At The Home Upgrade, we take pride in offering one of the industry's best return policies. You can cancel your order free of charge at any time before it has shipped, with some exceptions for custom-made orders. For cancellations, please contact us at 469-809-4999 or email support @ thehomeupgrade.com.

Cancellations (Before Order Ships):

If you need to cancel an order, please contact us as within 24 hours so that we can process a full refund before your order is shipped from the warehouse. You can reach our agents during business hours at (469) 809-4999, through the chat in the bottom right, or by emailing support@thehomeupgrade.com at any time.

Cancellations of Custom Orders:

Custom or made-to-order products cannot be cancelled or refunded, as these products are specifically produced for your order. These units are custom made according to your specifications or created once you place your order. Your warranty ensures that you receive a fully functional and operational product. If you are unsure whether your order is custom or made-to-order, please message or call us for clarification. All sales are final for custom-made and made-to-order products.

Refunds and Returns:


If you need to exchange your product, you may do so, but please note that you, as the customer, are responsible for any shipping costs incurred during the returns and exchange process. Please be aware that not all orders are eligible for return once they have shipped, as we source our products directly from manufacturers. Therefore, if the manufacturer does not permit us to return a product, we are unable to offer you a return. This policy may vary on a case-by-case basis, so please reach out to us for specific information regarding your brand and/or product. Due to the increasing costs of LTL/freight shipping, outright returns will be subject to a 25% cancellation fee plus return shipping costs. However, if you are replacing the product with something else, we may be able to assist with covering some of the costs, depending on the product.

Shipping Times:

We strive to deliver your order as quickly as possible. Estimated shipping times provided on the product pages are based on information from our suppliers and freight companies, but these estimates may change or vary without notice due to factors such as supply chain issues, delays in steel mills, manufacturing delays due to mills, high demand on shipping, factory/warehouse and dock workers, and so on).

Order delays are beyond The Home Upgrade's control and have proven to be unavoidable. We understand that this may be frustrating, and we kindly ask for your patience and understanding during these challenging times. We appreciate your business and value your patience.
FAQ's

Frequently Asked Questions:

When will I know if my order has shipped?

Once you place your order, you will receive an order confirmation email. This means that we have received your order and authorized your credit card for the purchase. We immediately check with our suppliers to confirm stock availability for immediate shipment. If your item is on backorder or unavailable, we will void the pre-authorization and notify you by email. If your item(s) are available for immediate shipment (within 5 business days), we will process the charges and submit the order for shipment. In case of any delay in stock, we will contact you before accepting payment.

When will my order be shipped?

If your order is in stock and we have processed the charges to your credit card, it will be shipped within 2-5 business days from the date of your order. We will send you tracking information within 24 hours of your order leaving the warehouse to the email address you provided during checkout. If you do not receive tracking information within six business days of your order, please feel free to follow up with us at support@ thehomeupgrade.com.

Shipping is limited to the lower 48 states of the USA. For any questions, please email us at support @ thehomeupgrade.com or call us at (469) 809-4999.

By using the site, you agree to these terms of use. If you do not agree, please refrain from using the site.
View full details