SKU:
CTC88W-3
Regular price
$9,999.00
Sale price
$6,922.00
Unit price
per
Sale
Temporarily Out of Stock
🚚 Fast Delivery Times
❓Questions? Talk to Experts 469-809-4999
🧑🏻‍💼Post-Purchase Lifetime Customer Support
🛡️Premium Authorized Dealer - Warranty Included
Dundalk Leisurecraft Canadian Timber Georgian Sauna CTC88W
Discover the exquisite Georgian Cabin Sauna, a remarkable addition to the Canadian Timber Collection, meticulously handcrafted by Leisurecraft using the finest Eastern White Cedar. This magnificent cabin sauna boasts a stunning light-colored finish, enhanced by the natural tight knots in the wood.
With a versatile cabin shape that blends perfectly with any cottage or home, the sauna comes in a convenient kit form for easy installation. The metal shingle roof guarantees a dry and enjoyable sauna experience, making it an ideal choice for those who appreciate quality, comfort, and style.
Features
Capacity: Up to 6 people
Size:

 

98 1/4" wide x 97 1/4" long x 100 1/2" tall at peak

Wood:

 

Eastern White Cedar
Walls:

 

1.5 in (3.8cm) Thick 
Door: Full-Sized Door with Bronze-Tempered Window for Easy Access
Windows:

 

2 double paned bronze-tempered windows

Eastern White Cedar - Sustainable Sourced Eastern White Cedar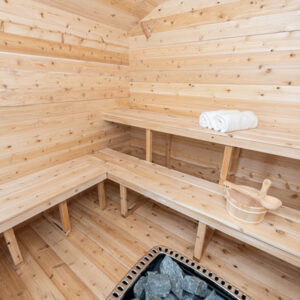 2 Tier Benches - 2 Tier Benches on back wall with return L Bench that can be installed on left or right side.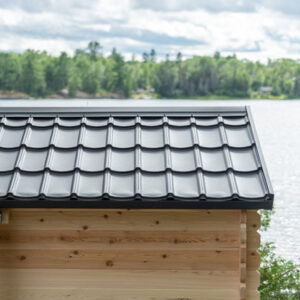 28ga Steel Roof -  Made in Canada 28 gauge steel roof panels in a black matte textured color.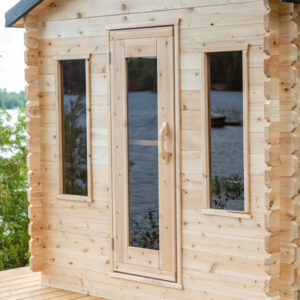 Front Windows - 2 Front Windows are included with each sauna, 5mm bronze tempered glass in a wooden frame.
Product Manuals: 
SPECIFICATION & SCHEMATIC SHEET:

CTC88 Product Drawing.pdf

CTC88W Parts List.pdf
ASSEMBLY INSTRUCTION:

CTC88W Assembly Instructions.pdf
Accessories
Accessories
*Optional Accessories, each sold separately: 
*Dundalk Leisurecraft is an al a carte company, everything is sold separately, including the heaters*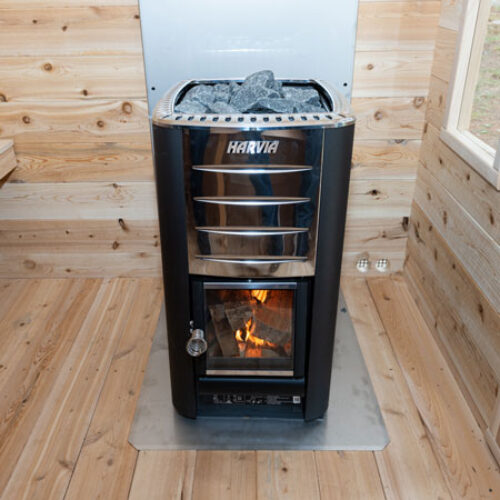 WOOD BURNING HARVIA HEATER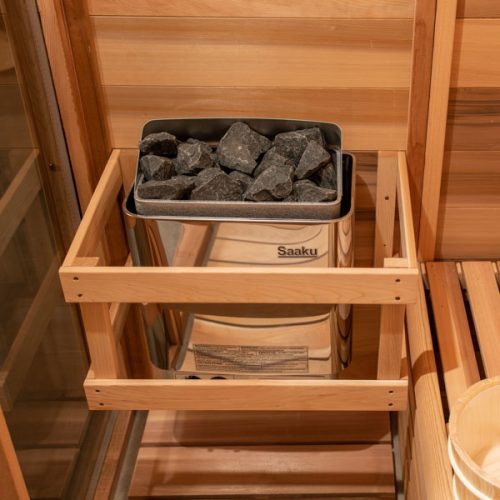 SAKKU 8KW ELECTRIC HEATER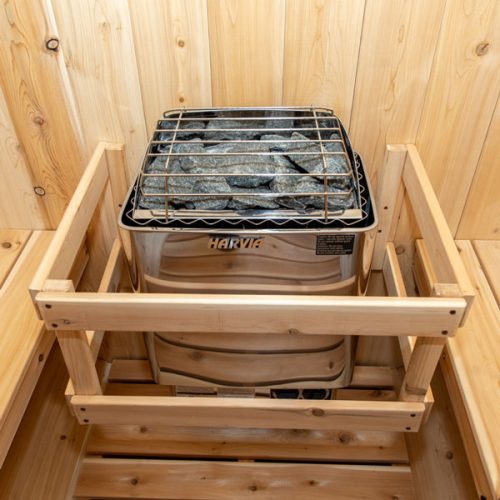 HARVIA KIP 8KW ELECTRIC HEATER
Warranty | Returns | Refunds
Warranty: 
 The Canadian Timber Collection by Dundalk LeisureCraft Inc. saunas are warranted against defects in materials and workmanship under normal/residential use for a period of three (3) years, as applicable, from the date of receipt of the product. This warranty does not apply to normal wear and tear and/or natural weather conditions. This warranty does not cover regular required maintenance of the sauna, (eg. Tightening bands on the barrels, cleaning or staining the sauna) refer to your sauna assembly manual for maintenance guidelines. This warranty does not cover misuse or negligence and the manufacturer and associated retailers are not liable for any injury or damage caused by the product. This warranty is a parts only warranty and any service or labour costs would not be considered as part of the 3 year warranty.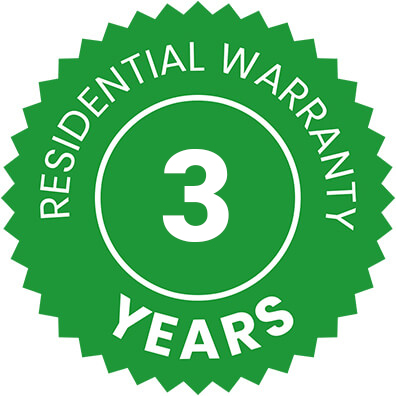 Return Policy

1) Dundalk Leisurecraft stated return policy is: Manufacturer does not accept returns
a. It is very expensive to return products back across the border
2) If a product must be returned to the factory, the following will apply:
a. 20% Restocking fee
b. Customer will be responsible for any and all shipping costs to the factory
c. Products must be returned in their original packaging and condition
d. Leisurecraft will inspect the product upon return and Leisurecraft will be the sole
decider of the condition of the product and the amount of the refund


Order Cancellation Policy:

1) Up to 14 days from order entry – you can cancel the order without penalty
2) After 14 days, a $65.00 cancelation fee will apply
3) Within 7 days of the ship date, the order cannot be canceled
4) For all Canadian Timber Collection products, customers will have 24 hours to cancel the order for $65.00 cancelation fee.
Video Review
Shipping Info

Shipping Info:
Dundalk LeisureCraft Responsibilities

1) Building and packing your sauna in a crate
2) Arranging for shipping to your home

Trucking Company Responsibilities

1) Making an appointment to deliver your sauna
2) Delivering your sauna to the end of your driveway or curbside
a. The trucking company is NOT responsible for unloading the sauna
b. The trucking company is NOT going to back their truck into your driveway
c. Most times the trucking company will deliver with an 18 wheel truck
i. Will this size truck fit on your road or neighborhood?

3) If the sauna crate is less than 92" (7 feet), the trucking company may have a lift gate on the back of the truck
which can be used to assist getting the sauna off the truck.
4) If the sauna crate is more than 92", there will not be a lift gate to unload the sauna crate and the customer
needs to decide how they are going to get the crate off the truck.

Customer Responsibilities:

1) Returning phone calls to the trucking company in a timely manner, to arrange delivery
2) Determining how the sauna is going to be unloaded from the truck
a. Crates will vary from 6 feet long to 14 feet long
b. The crate's weight will vary from 800 pounds to 1600 pounds, depending on the size of the sauna
3) Customer is responsible for unloading the sauna crate from the truck
a. Suggested methods for unloading the truck
i. Use a forklift or other mechanical piece of equipment
1. When using a fork lift to pick up the crates, they must be picked up from the end of
the crate and fork lift extensions are required.
ii. Renting a tilt tow truck to pick up the sauna from the local terminal and have it delivered to
your home
iii. Have a crew of helpers able to either take the sauna off the truck or unload the crate while
on the truck until the crate can be lifted off the truck

4) If the crate arrives damaged, you can accept the shipment, however, please take pictures of the damage, and
note the damage on the shipper's Bill of Lading (BOL). Immediately, contact your dealer or Dundalk, so we can
contact the shipper.
a. Mark the Bill of Lading (BOL) with "(Crate arrived open/damaged- Possible Hidden Damage."

*This product contains a Crate Size 96"x45"x44" High
Warranty

Warranty:



Warranty information may vary depending on the manufacturer, so please refer to the individual product pages for details. It's important to note that warranties cover damages that occur over time and from use. If an item arrives damaged and is not reported within 30 days, it is not considered a warranty claim.

For any questions, please contact support @ thehomeupgrade.com.
Shipping & Returns

Cancellation & Refund Policy:



At The Home Upgrade, we take pride in offering one of the industry's best return policies. You can cancel your order free of charge at any time before it has shipped, with some exceptions for custom-made orders. For cancellations, please contact us at 469-809-4999 or email support @ thehomeupgrade.com.

Cancellations (Before Order Ships):

If you need to cancel an order, please contact us as within 24 hours so that we can process a full refund before your order is shipped from the warehouse. You can reach our agents during business hours at (469) 809-4999, through the chat in the bottom right, or by emailing support@thehomeupgrade.com at any time.

Cancellations of Custom Orders:

Custom or made-to-order products cannot be cancelled or refunded, as these products are specifically produced for your order. These units are custom made according to your specifications or created once you place your order. Your warranty ensures that you receive a fully functional and operational product. If you are unsure whether your order is custom or made-to-order, please message or call us for clarification. All sales are final for custom-made and made-to-order products.

Refunds and Returns:


If you need to exchange your product, you may do so, but please note that you, as the customer, are responsible for any shipping costs incurred during the returns and exchange process. Please be aware that not all orders are eligible for return once they have shipped, as we source our products directly from manufacturers. Therefore, if the manufacturer does not permit us to return a product, we are unable to offer you a return. This policy may vary on a case-by-case basis, so please reach out to us for specific information regarding your brand and/or product. Due to the increasing costs of LTL/freight shipping, outright returns will be subject to a 25% cancellation fee plus return shipping costs. However, if you are replacing the product with something else, we may be able to assist with covering some of the costs, depending on the product.

Shipping Times:

We strive to deliver your order as quickly as possible. Estimated shipping times provided on the product pages are based on information from our suppliers and freight companies, but these estimates may change or vary without notice due to factors such as supply chain issues, delays in steel mills, manufacturing delays due to mills, high demand on shipping, factory/warehouse and dock workers, and so on).

Order delays are beyond The Home Upgrade's control and have proven to be unavoidable. We understand that this may be frustrating, and we kindly ask for your patience and understanding during these challenging times. We appreciate your business and value your patience.
FAQ's

Frequently Asked Questions:

When will I know if my order has shipped?

Once you place your order, you will receive an order confirmation email. This means that we have received your order and authorized your credit card for the purchase. We immediately check with our suppliers to confirm stock availability for immediate shipment. If your item is on backorder or unavailable, we will void the pre-authorization and notify you by email. If your item(s) are available for immediate shipment (within 5 business days), we will process the charges and submit the order for shipment. In case of any delay in stock, we will contact you before accepting payment.

When will my order be shipped?

If your order is in stock and we have processed the charges to your credit card, it will be shipped within 2-5 business days from the date of your order. We will send you tracking information within 24 hours of your order leaving the warehouse to the email address you provided during checkout. If you do not receive tracking information within six business days of your order, please feel free to follow up with us at support@ thehomeupgrade.com.

Shipping is limited to the lower 48 states of the USA. For any questions, please email us at support @ thehomeupgrade.com or call us at (469) 809-4999.

By using the site, you agree to these terms of use. If you do not agree, please refrain from using the site.
View full details